Here we go again…the new travel planning confusion
Deja vu.
In May 2020, I wrote about the patchwork quilt of mandates and regulations facing travelers going into the summer season.  Sadly, we're stitching together another new and confusing quilt for travelers to navigate.  And even though we should be experienced at this by now, we're again struggling with clear and consistent communications.
We have destinations with vaccine mandates for indoor dining. There are destinations with mask mandates for all indoor locations. We have local governments mandating masks, but only for the indoor facilities they own and operate. There are states that have banned local mandates. We have restaurants and other businesses implementing their own mask and vaccine requirements for entrance. And, oh, try keeping up with court rulings striking down mask mandates.
It's hard enough keeping up with what's happening in your own community. Now try planning a trip to another destination.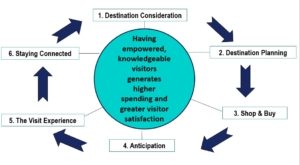 The new vacation planning cycle
Remember the vacation planning cycle? There have been a number of variations on it through the years, but the basic idea remains the same. Consumers think about, plan, purchase, daydream about, live, and relive their leisure trip experiences, and we as marketers engage (theoretically) with them at each step via various touchpoints.
What thought have you given to how the new consumer confusion fits into the vacation planning cycle for your own guests? And what are you doing to facilitate clear and consistent communication to them on behalf of your employees or your partners?
In addition to confusion about new mask and vaccine rules and mandates, here are a few other things inspiring bewilderment as travelers think about and plan their next trip:
The shortage of rental cars and ground transportation providers
Inconsistent opening days and operating hours for businesses due to the ongoing labor shortage
New advance reservation requirements at national parks and other attractions
And it's not just leisure transient travelers who will fret about this. The befuddlement applies to business travelers and event visitors, too.
In spite of Americans' obvious love of travel, between the delta variant and the discomfiture many travelers may just say it's not worth it this late summer and fall. It's up to us to help them navigate an ever-changing maze of rules, regulations, and ragged experiences.
READY TO
Get Started?
Contact us any time for a discussion, proposal, or quote and we will gladly oblige. We are flexible and pride ourselves in personal attention, no matter how big or small the assignment.