Here we go again…the new travel planning confusion
I just returned from a week-plus vacation trip across the American Southwest with my wife and daughter.  The journey was our first trip of any substantial length since the pandemic commenced, and we had a great time seeing the classic sights of the Southwest: Santa Fe, the Painted Desert, the Grand Canyon, Las Vegas.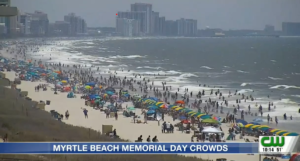 But the trip was also a reminder of the continuing impact of the pandemic upon the hospitality sector.  As we witnessed over Memorial Day weekend, consumers will generate extraordinary demand for parks, attractions, and hospitality businesses as Americans hit the road (or even when they stay local) this summer and reconnect with friends, family, and places both familiar and strange.  And to put it bluntly, much of the sector isn't ready for it.
Facing an unprecedented imbalance between the available supply of employees and business demand, many hospitality enterprises are already struggling to keep up.  To make matters worse, their guests are often difficult or just downright maniacal.  In a survey of hospitality-oriented businesses we performed for a leisure-oriented destination earlier this year, 1/3 of owners and managers said their guests had become somewhat or significantly more demanding during the pandemic.  And that was well before many Americans had been vaccinated and traveling again.
I observed many service breakdowns during my trip.  Some were the obvious result of a lack of staff, while others were due to the collapse of a hospitality culture at brands that traditionally sell themselves as delivering extraordinary service. I also saw numerous instances of businesses already limiting capacity (and their own revenue) due to staffing shortages and not because of health and safety mandates.
This summer will be trying for many businesses and their employees. You can help by preparing accordingly–doing your research to avoid surprises, making reservations, buying tickets in advance. But you can also help by treading lightly when things go awry. Don't take out your frustrations on your server, the front desk agent, your housekeeper.  Most frontline staff are working harder than ever, and many employees are in new surroundings.  Some may even be management not accustomed to a front line job.  Go out of your way to tip for great service and compliment staff who are doing an extraordinary job under difficult circumstances.
I watched one young employee at the El Tovar Hotel at the Grand Canyon who had been at her post since before dawn patiently tell guests about long waits for breakfast and inform them of their options, knowing it wasn't her fault she had been put in that position and recognizing she was in for a long day of frustrated customers. She was grateful for a kind word of encouragement, more than the perfunctory "thank you" said in passing. If you want to complain, speak to management, send an email, make a phone call. But don't take it out on the frontline staff. They're in for a rough summer.
And a word to hospitality businesses…yes, it is a very challenging hiring environment but there are little things you can do to help minimize the stress upon your staff. For example, too many places still don't update their hours of operation on their websites, Google listings, and social media platforms.  If you're running a reservations-only business, make it clear that walk-ins are unlikely to be served. Reward guests whom you think have been justifiably wronged with a glass of wine or a free appetizer.  Tell  staff to provide honest wait times and not what they think the customer wants to hear. Be clear about what your rules are about masks.  After all, expectations are the root of all disappointment, and we need to manage those expectations as best we can.
Patience should be the buzzword of the summer for all of us. If you can't be patient, take a trip somewhere you're more likely to get a table, reserve a room, and escape the crowds.  Be smart and plan ahead. And always be kind.
READY TO
Get Started?
Contact us any time for a discussion, proposal, or quote and we will gladly oblige. We are flexible and pride ourselves in personal attention, no matter how big or small the assignment.