Here we go again…the new travel planning confusion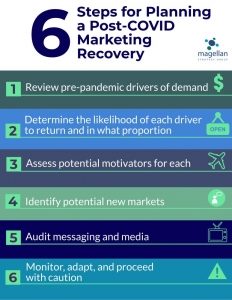 As a planning consultant who's hired to offer counsel to my valued clients, it pains me to say this, but…
I don't know any more than you or anyone else does about what the future looks like.  My crystal ball is hopelessly broken. As I said in my last blog post, we all need to be comfortable with ambiguity for a while.  Anyone who says otherwise is either pushing an agenda or is just naive.
But I think my advice below works for any significant shift in the external environment.  While we've never had to deal with a global pandemic like this one in our lifetimes (and hopefully never will again), this is a time-tested approach to adapting to marketplace shocks big or small.
I need to make one thing clear, however. Only you know when the time is right to begin the return to normal business in your community. Do nothing to endanger yourself, your employees, or your destination, and please abide by the most current guidelines offered by public health officials.
Review pre-pandemic drivers of demand.  What audiences were delivering revenue before the pandemic?  What segments were the most profitable? What markets are dependent upon an attraction or a particular business being open and at full operation? And what markets are likely to be the most loyal to you?  Those consumers are probably the lowest-hanging fruit in assessing demand for a recovery period.
Determine the likelihood of each driver to return and in what proportion.  What markets are still likely to be in lockdown even after a lockdown is relaxed?  For example, older consumers are likely to be among the last to venture out for anything beyond the purchase of basic supplies, healthcare, and other essential products and services.  What audiences will have the discretionary time and income available in a recessionary (at best) environment?  And what segments may be unprofitable (e.g. requiring deep discounts or incentives to lure back) for you to pursue at the start of a recovery period?
Assess potential motivators for each driver. We don't yet know what's going to release any pent-up demand or stimulate new spending by consumers on dormant categories such as travel.  Some of the elements that need to be present to generate market demand may include the return and general acceptance of frequent air passenger travel; the reopening of a large corporate entity in your community to stimulate business travel spending; the availability of a critical mass of dine-in restaurants; or  a full lifting of all lockdown restrictions in the destination.  Every community and every market will be driven by different factors.
Identify potential new markets.  Are there markets that weren't significant contributors of revenue prior to the pandemic, but which may now be more attractive or feasible due to the seismic changes in the external environment?  One example is family reunions.  Once it's safe to do so, many families may want to reconnect in places that are easy to reach and offer value and convenience.
Audit messaging and media.  Imagery that may have been appealing before–large events, a party atmosphere, etc.–won't resonate for many destinations in the new environment. Images of families enjoying time together, romantic getaways, or outdoor activities performed at appropriate distances are more likely to appeal to consumers.  What's open and what's still closed? Avoid the temptation to talk about how safe your community is or how few COVID-19 cases you've experienced. It could all change tomorrow. Carefully consider the best ways to reach your best audiences–old and new–in a media marketplace where consumer behavior and patterns of consumption have changed.
Monitor, adapt, and proceed with caution.  Be prepared to adjust on the fly. There's a lot we don't know right now and the unexpected will become the expected. Plan to be flexible and build in escape ramps wherever possible for messaging, media, and target audience. Remember, too, that your mileage may vary.  Every community's experience in the recovery period will be different, and what works for one destination won't necessarily be appropriate for another.
READY TO
Get Started?
Contact us any time for a discussion, proposal, or quote and we will gladly oblige. We are flexible and pride ourselves in personal attention, no matter how big or small the assignment.